Posted by Tracey Vowell on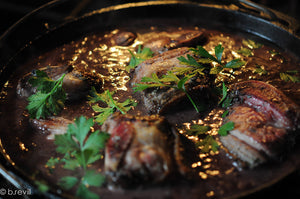 Ingredients: 2# Short ribs (the big blocky ones, not flanked) 1 1/2 Cups Black Beans 1 Large Onion 2-3 Hot Peppers 1 Head Garlic 1 Large Carrot 2 Ribs Celery 2-3 Quarts stock of your choice Preheat oven to 300 degrees.If your roasting pan is good and heavy, set it on the stove, heat it up, and brown the short ribs well, on all sides, over relatively high heat. If your roasting pan is thinner, like mine, use a good heavy sauce pan or skillet. The goal here is not to cook the meat, so much as develop all the...
Posted by Tracey Vowell on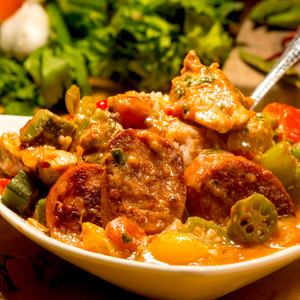 Andouille Sausage - My suggestion would normally be that you order it in, if you want a really authentic gumbo, and I would, under normal circumstances, suggest that you get a few pounds of smoked pork Tasso, as well. Roux is the thickener of choice in the making of a great many Creole dishes, and although the process is familiar, the color, can be a bit daunting the first few times out. I like a heavy medium sauce pan, and a wooden spatula for making Creole roux, and I make sure I am of a singular mind, when making it....
Tags:

celery, Chefs, creole, gumbo, holy trinity, louisiana, new Orleans, okra, onion, poblano chiles, rice, roux, Soup, stew, tomato